Editorial Assistant Lauren Katz is enrolled in the part-time Baking & Pastry Arts program at New York City's Institute of Culinary Education. Follow her each week as she shares her sweet experiences!
As someone who considers pizza one of the major food groups, I never thought these words would come out of my mouth: I never want to see another piece of bread ever again.
Maybe that's an exaggeration, but we've been on bread overload in class lately, and despite it being some of the best bread I've ever tasted, it's become hard to even look at. Just look at my freezer. Who needs this much bread???
Luckily, we're wrapping up the bread portion of this unit and moving on to sweet doughs, like croissants, brioche and doughnuts. I've never been more excited to see a tray full of fresh doughnuts, hot out of the fryer.
What I am thankful for, however, is what I've learned about the not-so glamorous process of baking bread. It requires a lot of time, patience and practice. It is truly a labor of love, and an acquired skill. I'm not quite sure if it's my forte, but I had a lot of fun trying my hand at rolling and forming bagels and pretzels. They tasted delicious, nonetheless!
Stay tuned for more carb-loaded updates!
Here at Every Day with Rachael Ray, we really love pizza. And since October is National Pizza Month, we really love October! Last year, we gave you five delicious pizza-inspired recipes that you could make during the week, and we're back for a second year with new recipes to whet your whistle. So get ready for a week full of crust, sauce and cheese. And if that's not enough for you, we've got dozens more recipes on our site.
Monday, October 5
Store-bought dough makes pizza night as easy as pie, but creating a great crust takes a little TLC. Here's how to make restaurant-quality pizza at home every time.
Do
Let the dough sit at room temp for 20 minutes so it can soften and roll more easily.
Roll it out with a rolling pin, working from the center to outside of the crust the edges. Or make a free-form pie by stretching the dough into shape.
Before you bake the pizza, brush the outside of the crust (the part that won't get toppings) lightly with olive oil for a darker, crispy edge.
Don't
Resist rolling out the dough if it starts to spring back. Let it rest a few minutes and soften up so it stretches easily.
Don't place the dough directly on the baking sheet. Instead, line the sheet with parchment or dust it with flour.
Be careful not to pile on too many ingredients or else you'll end up with a soggy crust.
Now get to it! Click here for some of our most popular pizza recipes of all time.
Yep, you read that correctly! October is National Pizza Month, and not that we need an excuse to get our hands a little doughy, but we'll take any reason we can get! Pizza can go way beyond just crust, sauce and cheese. Think: stuffed zucchini! Frittata! Sushi?! The options are endless, and that's why this week, we're giving you an entire weeknight meal planner dedicated to one of our favorite foods.
Monday, October 6th
Ratatouille-Stuffed Zucchini Pizzas
Did you know today is Pizza Party Day? Not that we need an excuse to share a pie with some friends on a Friday, but the holiday today gives us an opportunity to embrace two of our favorite things: pizza (obviously) and grilling! How, you ask? Rather than baking your pizza in the oven, try grilling it up for a smoky, fire-roasted flavor that truly can't be beat.
If you want to go all out, you can make your dough from scratch, pick your toppings and hit the grill. Or, you can grab a bag of store-bought pizza dough and go from there. Whether you're starting from scratch or taking a shortcut, here are some recipe ideas:

Double Cheese Pizzas with Fire Roasted Tomaotes
Spice Grilled Eggplant, Feta and Spinach Pizzas
Hot Sausage and Sweet Pepper Pizzas with Almond Pesto
Poblano & Pepper Jack Pizzas with Avocado
Grill-less or just not in the mood to cook on a Friday? That's okay, you can still celebrate! Order in a pie from your favorite delivery shop and throw together the easiest spring cocktail ever, Pick-a-Liquor Ginger Cocktail
Related Links
Fast Idea Friday: Bacon Cheese Sliders

Happy Friday! We know the last thing you probably want to do tonight is cook dinner when you can just as easily get into weekend mode and order in. Let us give you an offer you can't refuse: A pizza recipe that's almost as easy to make as picking up the phone and calling for delivery — but it's homemade! Plus, it'll be done before any pizza boy could make it to your front door. Behold: Pizza Supreme
Spicy Italian sausage, creamy ricotta cheese and tender bell peppers on a warm crust straight out of the oven. It doesn't get any fresher than that!
Related Links
With new products hitting the grocery stands every day, it's hard to keep up with the latest food trends. Have no fear; we're here to help! Each week, we'll be highlighting a new product that's worthy of a spot in your shopping cart and your kitchen.
The Product
Pillsbury Gluten Free Thin Crust Pizza Dough delivers one large crust or six personal pies for an almost-instant pizza party! ($4.99)
Why You Should Buy It
With so many people on a gluten-free diet, play it safe with this dough that tastes and feels just like the regular stuff.
How You Should Use It
Did someone say pizza party? Forget the marinara and mozzarella–try one of these pizza alternatives:
Related Links
Every week, we check out YOUR food photos on Instagram and pick a
"Whatcha Cookin' Wednesday Featured Cook of the Week" to appear on our blog and have a chance to be featured in a future issue of the magazine.
Kelly Senyei, AKA @justataste, uses goat cheese, heirloom tomatoes, and homemade basil pesto in this beautiful tart that pays homage to summer. Flaky puff pastry keeps the tart light and refreshing, and the sprinkling of sea salt and fresh basil at the very end adds a bright bite to this pizza-alternative. Get the full recipe on her blog.
Puff pastry isn't the only way to change up your usual pizza routine. Here are eight awesome grilled pizza recipes to make use of that grill for as long as possible.
RELATED:
Chef's Fave Italian Ingredients
When done right, pizza dough is crispy and crunchy and delicious. The secret? A long, slow rise. Follow our step-by-step lead for the best-ever 6-ingredient pizza dough!
Learn how to mix, pour, turn, oil, punch, shape, rest and finally roll out the best-ever pizza dough.
More technique tips:
How to Make Your Own Preserves
Last "Fill in the Blank Friday," we asked you what your favorite junk foods are and based on your spirited responses, here are the top five junk foods you crave. Go ahead and indulge, after all it is National Junk Food Day–the best day of the yeaaar!
1. Potato Chips
What's not to love about crunchy potato chips? Perfect as a snack or accompanying a sandwich, these hot potatoes pack flavor and crunch into an awesome one-bite package. Here's a little trivia for you, did you know the average person eats the equivalent of 96 one-ounce bags of chips a year. (That's 6 pounds a year.) Whether you spread your potato chip consumption out over the whole year or make it all happen today,  try one of our homemade chip recipes. You'll be able to customize them exactly to your liking and you'll never run out of delicious crisps again.
Get the recipes: Chips
2. Pizza
I can understand why pizza is considered a "junk food," but I also refuse to accept it as such. Regardless, pizza is clearly amazing. In fact, approximately 94 percent of Americans eat pizza on regular basis. So have a love affair of your own and cook up one of our easy and delicious pizza recipes at home ASAP.
3. Cheeseburger
We love burgers and so do you. With all the different variations out there though it can tricky to find your ultimate recipe. So we've taken the guesswork out of recipe searching and testing with our Ultimate Burger Recipe Finder Tool. Just answer four quick questions and we'll find the perfect recipe for you.
4. Ice Cream
In the United States, the average person consumes an average of 48 pints of ice cream a year, more than any other country. This is totally understandable though as even lizards know how good ice cream is. No matter which flavor is your fave though, we have an ice cream sandwich recipe you'll be sure to love.
Get the recipes: Super-cool Ice Cream Sammies
5. Chocolate
Just look at that gif. Enough said.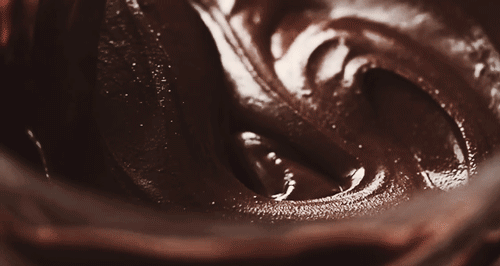 RELATED:
Rachael's 25 Most Popular Burgers
26 Decadent Chocolate Desserts