Editorial Assistant Lauren Katz is enrolled in the part-time Pastry & Baking Arts program at New York City's Institute of Culinary Education. Follow her each week as she shares her sweet experiences! 
As each week comes to an end, I get closer and closer not only to finishing pastry school classes but also beginning the next part of my pastry career: the externship. I remember thinking to myself a few months ago, "okay, I'll start seriously considering externship locations in 2016." Well, 2016 has quickly approached and it's time to start getting serious.
The first place I visited that got me thinking about my externship: Oddfellows Ice Cream Co.

As I'm laying out my options, a lot of considerations are running through my head, such as location, type of venue, schedule and primary products produced. I'm mainly looking into specialty bakeries and ice cream shops, and shying away from places like big restaurants, bread-focused bakeries and locations in Brooklyn (sorry Brooklyn, I still love you). I've heard both horror and success stories from externship experiences, and I want to make sure I fall into the latter category.
Maybe I'll be making Nutella Milk Bread and Frozen S'mores at Dominique Ansel Bakery!
Frosting cupcakes at Buttercup Bake Shop would be fun, too
Baking and filling cookies for ice cream sandwiches at The Good Batch would be a dream
In an ideal externship world, I am rolling cookies, frosting cupcakes, churning ice cream and maybe even testing some new recipes out, all while ensuring my pants still fit. It's going to be a very exciting—albeit, very busy!—few months come April, but I can't wait to get my hands dirty.
Then again, there's always Momofuku Milk Bar!
Hey, New Yorkers: what are your favorite bakeries in the city? Any externship suggestions? Leave them in the comment section below!
Let the ice cream truck drive on by! Make your own treats with the summer's best new cookies and ice creams.
1. Coffee Break
Drizzle on the caramel sauce that comes with Pillsbury Melts Caramel-Filled Brownie Cookies ($3.69) after you bake them, then sandwich them with rich Talenti Coffee Toffee Gelato ($5.99).
2. Cookie Monster
What's better than spice-cookie-flavored Ben & Jerry's Spectacular Speculoos Cookie Core ice cream ($4.89)? A scoop of it smooshed between two chocolate chip Just Cookie Dough cookies ($5.49).
3. Berry Light
Gluten-free, dairy-free, low-cal and seriously delicious: slightly salty Lundberg Organic Thin Stackers ($3.49.) rice cakes with sweet So Delicious Coconut Milk Frozen Dessert Oregon Mixed Berry ($6).
4. Freshly Minted
Imagine a frozen grasshopper pie: Thats what Dannon Oikos Mint Chocolate Chip Greek Frozen Yogurt ($3.99) between Pepperidge Farm Mint Chocolate Brownie Cookies tastes like!
5. Oat-Standing
Give chewy, Grandma-style Krusteaz Brown Sugar Oatmeal Cookie Mix ($2.25) cookies a tropical twist with a scoop of refreshing Haagen-Dazs Banana Rum Jam ($5.29).
No matter the time of day or day of the week, we always love a good ice cream sandwich. But now that it's the weekend (TGIF!), we're in the mood for something truly decadent, delicious and reminiscent of our childhood. So grab your mixer (no ice cream maker necessary!) and that bright red food coloring and get to work on some Red Velvet Meltcakes. Seriously, they're worth every bit of effort.
More Ways to Satisfy Your Sweet Tooth
Throw Your Favorite Desserts on the Grill!
How do You Like Them Marshmallows?
As the last weekend of National Ice Cream Month approaches (we know, we're tearing up a little bit over here, too) there's no better way to send off the sweetest time of year than by whipping up some homemade ice cream! Brrrrr-illiant, no? So whether you like chocolate, vanilla or something fruity, it's time to schedule a date this weekend with the coolest kitchen accessory: your ice cream maker!
Triple Chocolate Crunch Ice Cream

July is Ice Cream Month, so that means we'll be scooping, spooning, sandwiching, dipping, topping and licking our favorite ice cream treats and recipes for the next 31 days! We asked you for your favorite ice cream flavors and some of your top picks also happen to be some of our most popular recipes! You're loving mint chocolate chip, chocolate, peanut butter, coffee, pistachio and chocolate chip cookie dough ice creams, and we're here to satisfy your cravings. Check out these ice cream recipes to keep you cool and help you celebrate National Ice Cream Month throughout July:



Big news, ice cream lovers: Haagen-Dazs is celebrating Free Cone Day today! To celebrate the warmer weather, you can get a free scoop of your favorite Haagen-Dazs flavor in over 180 shops across the nation. Even better: two new gelato flavors will be available — Caramelized Banana Chip and Tiramisu. The Every Day with Rachael Ray staff got a little preview of these new gelato flavors at our very own Haagen-Dazs ice cream social, so we can tell you first-hand just how delicious they are!
Photo via Haagen-Dazs
Photo via Haagen-Dazs
Be sure to tweet about your favorite flavors using the hashtag, #HDFreeConeDay, and to find a participating store near you, click here!
There's never a wrong time to enjoy a decadent ice cream sundae. But if you were to enjoy one just one day of the year, let it be today: National Sundae Day. Creamy, sweet ice cream and piping hot sauce with plenty of crunchy toppings — what's not to love? So, to make your Monday feel a little bit more like Sunday/e, here are three of our favorite recipes:
Cherry-Chocolate Chunk Ice Cream Sundaes
Elvis-Style Grilled Banana Sundaes
The weather outside might be getting frightful, but these sundaes will keep you feeling sooo delightful.
Related Links
To celebrate National Ice Cream Sandwich Day, we're sharing four gorgeous ice cream sammies that are layered with grown-up flavors, but will still make you feel like a kid on summer vacation.
 Start with a double dose of sea-salt-sprinkled brownies, then add a chunk of coffee ice cream and a ribbon of fudge sauce for our Salted Brownie Sundae Bites. Talk about "sundae" best!
 Party-perfect Pistachio Neapolitan Cakewiches are guaranteed crowd favorites — without the work. Just sandwich ice cream between two layers of cake (it can even be store bought!), freeze, then cut into bars.
 We've taken what you love most about the Lemon Meringue Pie — tangy lemon filling, perfectly browned meringue — and made it portable with these Lemon Meringue Hand Pies.
Click for more ice cream sandwich recipes to make this summer.
Last "Fill in the Blank Friday," we asked you what your favorite junk foods are and based on your spirited responses, here are the top five junk foods you crave. Go ahead and indulge, after all it is National Junk Food Day–the best day of the yeaaar!
1. Potato Chips
What's not to love about crunchy potato chips? Perfect as a snack or accompanying a sandwich, these hot potatoes pack flavor and crunch into an awesome one-bite package. Here's a little trivia for you, did you know the average person eats the equivalent of 96 one-ounce bags of chips a year. (That's 6 pounds a year.) Whether you spread your potato chip consumption out over the whole year or make it all happen today,  try one of our homemade chip recipes. You'll be able to customize them exactly to your liking and you'll never run out of delicious crisps again.
Get the recipes: Chips
2. Pizza
I can understand why pizza is considered a "junk food," but I also refuse to accept it as such. Regardless, pizza is clearly amazing. In fact, approximately 94 percent of Americans eat pizza on regular basis. So have a love affair of your own and cook up one of our easy and delicious pizza recipes at home ASAP.
3. Cheeseburger
We love burgers and so do you. With all the different variations out there though it can tricky to find your ultimate recipe. So we've taken the guesswork out of recipe searching and testing with our Ultimate Burger Recipe Finder Tool. Just answer four quick questions and we'll find the perfect recipe for you.
4. Ice Cream
In the United States, the average person consumes an average of 48 pints of ice cream a year, more than any other country. This is totally understandable though as even lizards know how good ice cream is. No matter which flavor is your fave though, we have an ice cream sandwich recipe you'll be sure to love.
Get the recipes: Super-cool Ice Cream Sammies
5. Chocolate
Just look at that gif. Enough said.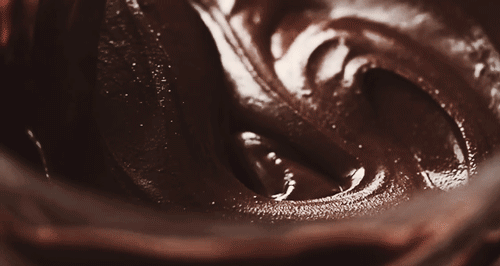 RELATED:
Rachael's 25 Most Popular Burgers
26 Decadent Chocolate Desserts
Happy National Peach Ice Cream Day! It's summer, and there's no better time to enjoy a nice juicy peach than right now. So stock up! This recipe ensures those peaches won't go to waste.
Peach and Toasted Almond Ice Cream
5 Tips for Making Homemade Ice Cream:
1. To decrease prep time, store the bowl of your ice cream maker in the freezer, wrapped tightly in a plastic bag.
2. Add mix-ins, such as nuts and chocolate chips, for only the last minute of churning.
3. To ensure proper aeration, only fill the ice cream maker three-quarters of the way.
4. Make sure the ice cream "batter" or custard is cool before putting it into the machine.
5. To prevent ice crystals from forming in the freezer, place a piece of plastic wrap on the top surface and press down.
More Sweet Treats:
Seasonal Chocolate Dessert Recipes 
Source: seriouseats.com