I don't know about you, but I'm a milk chocolate person. Don't get me wrong, I enjoy a good hunk of the dark stuff, but when I have to choose milk is my go-to goodie. And since I try to celebrate National Milk Chocolate Day every day, I wanted to share a few of my favorite recipes for the occasion!
Milk chocolate and peanut butter are a classic combination–just ask any Reese's fan out there. Kick it up a notch with our Peanut Butter-Stuffed Milk Chocolate Sandwich Cookies.
Tip: Use chocolate bars instead of chocolate chips in this Chocolate-Banana Bread Pudding; they melt better than chocolate morsels, which are formulated to hold their shape during baking.
Transform a campfire staple into a frozen treat with our Bonbon S'mores–your kids will thank you!
More tasty treats:
Last "Fill in the Blank Friday," we asked you what your favorite junk foods are and based on your spirited responses, here are the top five junk foods you crave. Go ahead and indulge, after all it is National Junk Food Day–the best day of the yeaaar!
1. Potato Chips
What's not to love about crunchy potato chips? Perfect as a snack or accompanying a sandwich, these hot potatoes pack flavor and crunch into an awesome one-bite package. Here's a little trivia for you, did you know the average person eats the equivalent of 96 one-ounce bags of chips a year. (That's 6 pounds a year.) Whether you spread your potato chip consumption out over the whole year or make it all happen today,  try one of our homemade chip recipes. You'll be able to customize them exactly to your liking and you'll never run out of delicious crisps again.
Get the recipes: Chips
2. Pizza
I can understand why pizza is considered a "junk food," but I also refuse to accept it as such. Regardless, pizza is clearly amazing. In fact, approximately 94 percent of Americans eat pizza on regular basis. So have a love affair of your own and cook up one of our easy and delicious pizza recipes at home ASAP.
3. Cheeseburger
We love burgers and so do you. With all the different variations out there though it can tricky to find your ultimate recipe. So we've taken the guesswork out of recipe searching and testing with our Ultimate Burger Recipe Finder Tool. Just answer four quick questions and we'll find the perfect recipe for you.
4. Ice Cream
In the United States, the average person consumes an average of 48 pints of ice cream a year, more than any other country. This is totally understandable though as even lizards know how good ice cream is. No matter which flavor is your fave though, we have an ice cream sandwich recipe you'll be sure to love.
Get the recipes: Super-cool Ice Cream Sammies
5. Chocolate
Just look at that gif. Enough said.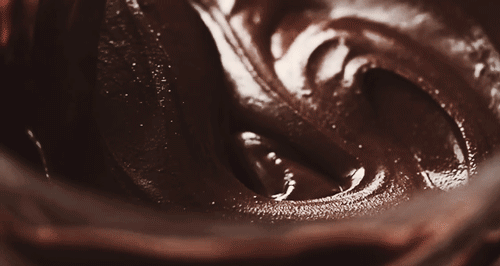 RELATED:
Rachael's 25 Most Popular Burgers
26 Decadent Chocolate Desserts
If you're like me, you don't need a specific holiday to encourage you to eat chocolate. However, when those special holidays do come along, you celebrate them with such dedication and gusto that some people may believe that you truly only save chocolate for special occasions–hah! That being said–high-fives all-around–because today's the day to go crazy for cocoa, it's World Chocolate Day!
| | |
| --- | --- |
| | Do you agree with Jo Brand's "everything is better if it's made of chocolate" philosophy? I certainly do! And to prove it, I'm daring you to try our spicy and savory chocolate chicken wings. These Mexican-mole inspired wings combine the earthy flavors of superfood dark chocolate with hot chili pepper to make an addictive, finger-licking good appetizer or party snack. For an added kick of flavor and heat, sprinkle the wings with a touch of cayenne pepper before serving. (Bonus: Chocolate and cayenne pepper are known to boost your metabolism.) |
More Chocolate:
26 of Our Most Decadent Chocolate Recipes
How To Make Truffles at Home [Video] 
If you've known and loved a BBQ trail in your day, or vineyard-hopped with the best of them, we've got your next great trips right here: five food routes so tempting, we apologize to your driveway for the impending skid marks. Immediate departure not an option? Stay tuned and get an edible preview as we share exclusive regional recipes!
The Trips:
RELATED:
Get the free driving directions and customized Google Maps here
Join our Google+ Community here
RELATED:
Triple-Layer Carrot Cake with Fluffy Vanilla Frosting Recipe
26 Decadent Chocolate Desserts