We know the days leading up to Valentine's Day can be a bit hectic, especially if you're trying to plan the perfect meal for your sweetie. Stressing over stroganoff? Going crazy over creme brulee? Here's a dessert idea that's quick, easy and just as easy to look at as it is to eat: Cran-Raspberry Truffles.
Creamy raspberry-tinted white chocolate gets coated in a bittersweet chocolate blanket and topped with dried cranberries for the ultimate after-dinner treat. The best part is you freeze 'em in between steps, giving you plenty of time to work on your other dishes! Happy Valentine's Day!
More Fast Ideas
Bacon lattes, crazy guacamole combinations and Vegemite Toast: When it comes to trying exotic foods and flavor combos, the staff at Every Day with Rachael Ray is always down. But this idea had us a little mind-boggled (not to mention sweaty after consuming): Chocolate-covered jalapeño peppers!
FTD is an online flower and gift shop that, just like most retailers, is gearing up for Valentine's Day. These spicy treats definitely caught our attention! Each pepper is hand-dipped in milk, dark or white chocolate and arrives perfectly chilled and fresh. But beware! Each pepper is raw, so watch out for a mouth full of seeds, the spiciest part of the pepper.
The thought of eating spicy peppers with chocolate was pretty foreign to us, but after one bite we knew we had found a winning flavor combination. The chocolate cuts through the raw heat of the pepper, but still leaves your mouth a little toasty (depending on your spice tolerance). This is a treat we'd love to share with our Valentine — as long as they're just as open to trying to new things as we are. Click here to save $10 on your purchase, and still get it in time for the big day!
Related Links
A Sweet Reason to Celebrate February
As we begin another week, here's a thought to perk up your Monday: It's National Chocolate Cake Day! Between the pumpkin pies, cookie swaps and juice cleanses, you may have forgotten about this old friend, but we're here to give chocolate cake new life in 2014. Whether you want a classic recipe that looks right out of Matilda, or you're interested in a chocolate cake remix, here are some ideas to get you started.
The Classic: Chocolate Layer Cake
The Sweet Piece of Nostalgia: S'mores Lava Cakes
The Most Indulgent: Hot Fudge Sundae Cake
The No-Sharing-Necessary Dessert Fix: Black-Bottom Cupcakes
Related Links
supermarket smarts: cocoa buffs
New hot chocolates are pushing the kiddie classic in delicious new directions–and leaving plain powdered mixes in the dust. Here are our six favorite new mixes. BYO marshmallows!
Swiss Miss Hot Chocolate Hot Cocoa K-Cups
The old-school packets catch up with the times thanks to these single-serving cocoa capsules. No need to stir out the lumps–the machine takes care of that for you! $8.79 for 12 servings
Ghiradelli Chocolate Caramel Premium Hot Cocoa
The San Francisco chocolate company does its classic hot chocolate mix one better by blending it with sweet, buttery caramel. $4.89 for 9 servings
Chuao Chocolatier Deluxious Dark Drinking Chocolate
A cocoa for true chocolate lovers: This powdered mix has big chunks of Venezuelan dark chocolate that melt into a rich, smooth cup. $15.95 for 9 servings
City Bakery Hot Chocolate
New Yorkers are hooked on this Manhattan cafe's decadent mix of heavy cream, whole milk and dark chocolate. Thanks to these handy cartons, now the rest of the country can taste what all the fuss is about. Just heat and drink! $3.99 for 2 servings
Land O'Lakes Arctic White Hot Cocoa Mix
Instant cocoa lightens up with this sweet, creamy white-chocolate blend. Simply add hot water, stir, then sip. $5.49 for 12 servings
CocoaPlanet CocoaMint Chocolate
Delicious straight out of the package, these peppermint-flavored organic dark-chocolate disks can also be stirred into hot milk to make a refreshing twist on hot chocolate. $2.99 for 1 serving
Written by Robin Jones
Related Links
If you ask us, the very best way to wind down after a busy week is a work-free self-indulgence. And there's no better recipe for this crisp fall day than our rich, creamy, warm chocolate pudding!
Just one bite of our Warm Chocolate Pudding will take you straight to chocolate heaven. Even better: It only takes one saucepan and seven ingredients to make (and most of the ingredients are probably already in your kitchen!). Share this sweet snack with friends to celebrate the end of the work week, or simply indulge alone–we won't judge you if it never even makes it out of the pot!
Watch our video tutorial to learn how to make these decadent bowls of perfection here.
Related Links
Fast Idea Friday: Artichoke Bruschetta
I have a confession. I'm a s'more-aholic. When I see my favorite bloggers post their version of a delicious recipe involving chocolate, graham crackers and marshmallows, it's almost a guaranteed instant pin. So after a few months, er, maybe years?, of collecting and trying out some of the most delicious eye candy on the web, I'd like to share some of my favorites with you.
These S'more Mini Dippers from Kevin & Amanda are an instant party hit—and so easy to make! Just whip them up, then leave them by your coffee station for some dipping and sipping!
Every girl knows there's nothing better than the perfect sweet and salty combo. Solution: Pretzel S'more Bites from The Novice Chef.
I made these S'more Brownies from The Bakerella for a book club night (the book, The Interestings, was all about a group of friends who met at summer camp, so S'mores seemed like the natural fit for dessert). Hot out of the oven there were requests for seconds… and thirds… and absolutely no leftovers.
My other weakness: Red Velvet. Combine it with S'mores and you've got one great, over-the-top treat. Try these Gooey Red Velvet S'mores Bars from Sugarcrafter.
And last, but certainly not least, Jessica over at How Sweet It Is nails it with all of her recipes and these No Bake S'mores Cheesecakes are no exception. Seriously, try them.
Enjoy!
Looking for more sweet eats? Try our Every Day with Rachael Ray twists on the classic S'more:
The chocolate chip cookie has been an American favorite since its serendipitous invention in 1937, when Ruth Graves Wakefield of the Toll House Inn–ring a bell, anyone?–added pieces of a chopped chocolate bar to her cookies. In honor of National Chocolate Chip Day, we present you with some of our favorite recipes inspired by Ruth's fabulous invention and delicious tiny morsel, the chocolate chip.
Get the recipes: 
RELATED:
26 Decadent Chocolate Dessert Recipes
3 Great Gluten-Free Cake Mixes
I don't know about you, but I'm a milk chocolate person. Don't get me wrong, I enjoy a good hunk of the dark stuff, but when I have to choose milk is my go-to goodie. And since I try to celebrate National Milk Chocolate Day every day, I wanted to share a few of my favorite recipes for the occasion!
Milk chocolate and peanut butter are a classic combination–just ask any Reese's fan out there. Kick it up a notch with our Peanut Butter-Stuffed Milk Chocolate Sandwich Cookies.
Tip: Use chocolate bars instead of chocolate chips in this Chocolate-Banana Bread Pudding; they melt better than chocolate morsels, which are formulated to hold their shape during baking.
Transform a campfire staple into a frozen treat with our Bonbon S'mores–your kids will thank you!
More tasty treats:
Last "Fill in the Blank Friday," we asked you what your favorite junk foods are and based on your spirited responses, here are the top five junk foods you crave. Go ahead and indulge, after all it is National Junk Food Day–the best day of the yeaaar!
1. Potato Chips
What's not to love about crunchy potato chips? Perfect as a snack or accompanying a sandwich, these hot potatoes pack flavor and crunch into an awesome one-bite package. Here's a little trivia for you, did you know the average person eats the equivalent of 96 one-ounce bags of chips a year. (That's 6 pounds a year.) Whether you spread your potato chip consumption out over the whole year or make it all happen today,  try one of our homemade chip recipes. You'll be able to customize them exactly to your liking and you'll never run out of delicious crisps again.
Get the recipes: Chips
2. Pizza
I can understand why pizza is considered a "junk food," but I also refuse to accept it as such. Regardless, pizza is clearly amazing. In fact, approximately 94 percent of Americans eat pizza on regular basis. So have a love affair of your own and cook up one of our easy and delicious pizza recipes at home ASAP.
3. Cheeseburger
We love burgers and so do you. With all the different variations out there though it can tricky to find your ultimate recipe. So we've taken the guesswork out of recipe searching and testing with our Ultimate Burger Recipe Finder Tool. Just answer four quick questions and we'll find the perfect recipe for you.
4. Ice Cream
In the United States, the average person consumes an average of 48 pints of ice cream a year, more than any other country. This is totally understandable though as even lizards know how good ice cream is. No matter which flavor is your fave though, we have an ice cream sandwich recipe you'll be sure to love.
Get the recipes: Super-cool Ice Cream Sammies
5. Chocolate
Just look at that gif. Enough said.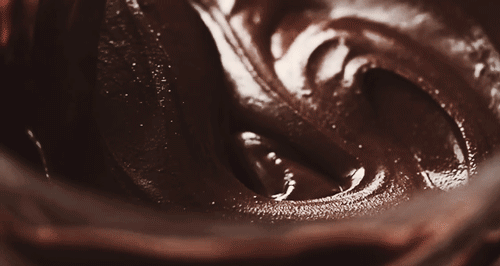 RELATED:
Rachael's 25 Most Popular Burgers
26 Decadent Chocolate Desserts
If you're like me, you don't need a specific holiday to encourage you to eat chocolate. However, when those special holidays do come along, you celebrate them with such dedication and gusto that some people may believe that you truly only save chocolate for special occasions–hah! That being said–high-fives all-around–because today's the day to go crazy for cocoa, it's World Chocolate Day!
| | |
| --- | --- |
| | Do you agree with Jo Brand's "everything is better if it's made of chocolate" philosophy? I certainly do! And to prove it, I'm daring you to try our spicy and savory chocolate chicken wings. These Mexican-mole inspired wings combine the earthy flavors of superfood dark chocolate with hot chili pepper to make an addictive, finger-licking good appetizer or party snack. For an added kick of flavor and heat, sprinkle the wings with a touch of cayenne pepper before serving. (Bonus: Chocolate and cayenne pepper are known to boost your metabolism.) |
More Chocolate:
26 of Our Most Decadent Chocolate Recipes