French Onion Dip Burgers!
You've pinned, favorited, tweeted and added this French Onion Dip Burger to your recipe box more than any other burger recipe, so we know how much you love it. A sunny, summer weekend is the perfect time to make a burger, especially when it's topped with luscious caramelized onions and crunchy potato chips. Get the full recipe for Rach's French Onion Dip Burgers here, or choose one of the 24 other most popular burgers!
Related Links
Moo-ve over, hamburger! These new patties prove that summer grilling can sizzle even without red meat.
1. Make a smoky turkey burger
The patty: Ball Park Flame Grilled Turkey Patty ($8.29 for 6)
The bread: Whole-wheat bun
The toppings: BBQ sauce, sliced smoked cheddar, pickles, red-leaf lettuce






2. Make a masala burger
The patty: Gardein Garden Veggie Burger ($4.49 for 4)
The bread: Grilled naan
The toppings: Greek yogurt with curry, sliced tomato, cilantro
3. Make a brat burger
The patty: Johnsonville Cheddar Bratwurst Grillers ($4.49 for 4)
The bread: Kaiser roll
The toppings: Sweet and sour red cabbage, German potato salad, grainy mustard
4. Make a brunch burger
The patty: MacKnight Atlantic Salmon Burgers ($4.97 for 4)
The bread: Pumpernickel toast
The toppings: Sliced red onion, sliced cucumber, cream cheese with fresh chives












Related Links
The New York City Burger Bash is one of Rachael's favorite events of the year. A few years ago, Rach and friends welcomed 20 meat masters who fought for first place, while everyone else ate, drank, danced and enjoyed the delicious aromas of the night. Rach mingled with Bobby Flay, who won the People's Choice Award and tons of other Food Network stars! Read on to see who made it to the party.
Giada DeLaurentiis and her hubby, Todd.
Katie Lee stopped by, who apparently opts for a burger with just American cheese. Now that's minimalism at its finest!
And Anne Burell and Alex Guarnaschelli, who talked about the crazier side of burgers, such as condiments like Kimchi and fried squid. Yum!
It was definitely a night to remember. What's your favorite way to eat a burger?
Related Links
Behind the Scenes at Burger Bash 2012
Rachael's Most Popular Burgers
There are burgers… and then there are restaurant burgers: those over-the-top concoctions built for maximum wow and deliciousness. To find the best of this special breed, we tapped the country's top chefs— all recent regional winners of prestigious James Beard Awards—to share the burgers they devour most on their home turf. Then we tracked down the recipes, cooked up a storm and cast our votes. The result: Our (slightly simplified) recipe for the best burger in America, plus 51 more of the coolest, craziest, most crave-worthy burgers to ever grace a bun— and how you can make your own burgers better!
CHEF TIM CUSHMAN
of O Ya, Boston, MA
Find out more about this James Beard award-winning chef atjamesbeard.org.
Tim Cushman's Top 5 Favorite Burgers in the Northeast
1. SPICY TUNA BURGER Parish Cafe, Boston, MA  
Fresh tuna seared and slathered with soy glaze and sriracha-spiked mayo.
2. NEPTUNE BURGER Neptune Oyster Bar, Boston, MA  
Fried oysters, garlic mayonnaise and relish top this beefy burger.
3. BURGER MY WAY Deep Ellum, Boston, MA 
Smoked tomato aioli, bacon-onion jam, aged cheddar and homemade pickles.
4. APOCALYPSE NOW BURGER Nosh Kitchen Bar, Portland, ME  
Crispy pork belly, foie gras, cherry jam and mayo.
5. PORK TONKATSU BURGER O Ya, Boston, MA  
Breaded pork patty with sake-braised pork butt, seared foie gras, shiso cabbage slaw and a sweet-savory sauce.
CHEF LINTON HOPKINS
of Holeman & Finch, Public House, Atlanta, GA
Find out more about this James Beard award-winning chef at jamesbeard.org.
Linton Hopkin's Top 4 Favorite Burgers in the Southeast
1. DOUBLE CHEESEBURGER Holeman & Finch Public House, Atlanta, GA  
A double stack with red onion, American cheese, homemade ketchup, mustard and bread-and-butter pickles.
2. HUSK CHEESEBURGER Husk, Charleston, SC  
Two slim bacon-infused patties with sliced onions, melted American cheese and tangy sauce on a benne-seed bun.
3. 50/50 BURGER Seven Lamps, Atlanta, GA
Grassfed pancetta burger with cheddar cheese, onions, pickles and thousand island dressing.
4. TENNESSEE STACK The Oak Bar at the Hermitage Hotel, Nashville, TN
Pepper jelly, sweet onions and hot mustard on a double burger.
CHEF HUGH ACHESON
of Five & Ten and The National, Athens, GA
and Empire State South, Atlanta, GA
Find out more about this James Beard award-winning chef at jamesbeard.org.
Hugh Acheson's Top 5 Favorite Burgers in the Southeast
1. BOCADO BURGER STACK Bocado, Atlanta, GA  
Two juicy beef patties band together with melted American cheese and homemade pickles.
2. HUSK CHEESEBURGER—Again!
3. APACHE-STYLE DOUBLE BURGER Grind House Killer Burgers, Atlanta, GA  
A griddled patty on a potato bun with pepper jack, grilled onions and roasted New Mexico green chiles.
4. GRASSFED BEEF BURGER Farm 255, Athens, GA  
Topped with Tennessee cheddar, bread-and-butter pickles, chicken-liver mousse and dijon mustard.
5. CHEESEBURGER ADD Drug Store, Athens, GA  Small, simple cheeseburgers with crinkle-cut fries and ketchup and mustard on the side.
Last "Fill in the Blank Friday," we asked you what your favorite junk foods are and based on your spirited responses, here are the top five junk foods you crave. Go ahead and indulge, after all it is National Junk Food Day–the best day of the yeaaar!
1. Potato Chips
What's not to love about crunchy potato chips? Perfect as a snack or accompanying a sandwich, these hot potatoes pack flavor and crunch into an awesome one-bite package. Here's a little trivia for you, did you know the average person eats the equivalent of 96 one-ounce bags of chips a year. (That's 6 pounds a year.) Whether you spread your potato chip consumption out over the whole year or make it all happen today,  try one of our homemade chip recipes. You'll be able to customize them exactly to your liking and you'll never run out of delicious crisps again.
Get the recipes: Chips
2. Pizza
I can understand why pizza is considered a "junk food," but I also refuse to accept it as such. Regardless, pizza is clearly amazing. In fact, approximately 94 percent of Americans eat pizza on regular basis. So have a love affair of your own and cook up one of our easy and delicious pizza recipes at home ASAP.
3. Cheeseburger
We love burgers and so do you. With all the different variations out there though it can tricky to find your ultimate recipe. So we've taken the guesswork out of recipe searching and testing with our Ultimate Burger Recipe Finder Tool. Just answer four quick questions and we'll find the perfect recipe for you.
4. Ice Cream
In the United States, the average person consumes an average of 48 pints of ice cream a year, more than any other country. This is totally understandable though as even lizards know how good ice cream is. No matter which flavor is your fave though, we have an ice cream sandwich recipe you'll be sure to love.
Get the recipes: Super-cool Ice Cream Sammies
5. Chocolate
Just look at that gif. Enough said.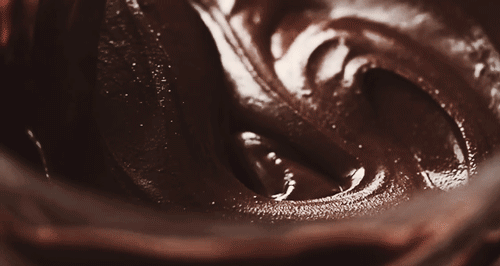 RELATED:
Rachael's 25 Most Popular Burgers
26 Decadent Chocolate Desserts
CHEF GABE RUCKER
of Le Pigeon, Portland, OR
Find out more about this James Beard award-winning chef at jamesbeard.org.
Gabe Rucker's Top 5 Favorite Burgers in the Northwest
1. SLOWBURGER Slow Bar, Portland, OR  
Melted gruyère, butter lettuce, pickle relish and beer-battered onion rings.
2. HALIBUT FISHWICH Matt's in the Market, Seattle, WA  
Fried fish patty, bacon, pickled peppers and tartar sauce on a brioche bun.
3. PALEY'S BURGER Paley's Place, Portland, OR  
Ground-to-order patty with homemade pickles, mustard aioli and ketchup.
4. BIWA HAMBURGER Biwa, Portland, OR  
Colossal beef patty topped with roast pork and spicy kimchi mayo.
5. LAMB BURGER Broder, Portland, OR  
Mint-and-cumin lamb burger with herbed goat cheese and pickled onions.
CHEF BRUCE SHERMAN
of North Pond, Chicago, IL
Find out more about this James Beard award-winning chef at jamesbeard.org.
Bruce Sherman's Top 4 Favorite Burgers in the Great Lakes region
1. VIE BURGER Vie, Western Springs, IL  
A 21-day dry-aged beef patty grilled over a wood fire with aged Wisconsin cheddar, homemade pickles, bacon and tempura mushrooms on the side.
2. JAMBURGER Jam, Chicago, IL  
Two beef patties paired with mild local butterkase cheese, a fried egg and smoked tomato sauce.
3. PIMIENTO CHEESE BURGER Big Jones, Chicago, IL
 A double stack tricked out with griddled onions and homemade pimento cheese on a squishy steamed bun.
4. DOUBLE CHAR BURGER Edzo's, Evanston, IL  
Hand-ground chuck grilled with cheddar, mushrooms, bacon and onions.
CHEF DAN KLUGER
of ABC Kitchen, New York, NY
Find out more about this James Beard award-winning chef at jamesbeard.org.
Dan Kluger's Top 5 Favorite Burgers in New York
1. "OFF-MENU" BURGER Gramercy Tavern, Manhattan  
An off-menu special with aged cheddar, pickled cipollini and grainy mustard.
2. AKAUSHI CHEESEBURGER ABC Kitchen, Manhattan  
A wagyu beef burger with raw-milk cheese, pickled jalapeños and arugula-basil-chive mayo.
3. BASH STYLE BURGER Burger & Barrel, Manhattan  
Smoky-sweet onion and bacon jam on a burger dressed with a garlicky, spicy sauce.
4. BARK BURGER Bark Hot Dogs, Brooklyn, NY  
It's all about the creamy special sauce on this angus burger.
5. BACON CHEDDAR BURGER Perry St., Manhattan, NY 
Bacon, melty cheddar, homemade Russian dressing.