There's nothing like a gooey s'more to bring out the kid in all of us. It's the campfire treat you can enjoy all year long, but August 10th is National S'mores Day, and in celebration, we're rounding up the sweetest gear for your marshmallow roasting and sandwiching. Whether you like your 'mallows burnt to a crisp or sans-graham cracker, this set up will have you craving s'more:
1. Not everyone can light a campfire, so turn to this tabletop S'mores maker, with compartments for all your treat components. It turns on with the easy switch of a button. $60, overstock.com
2. Whoever said there's only one way to make a s'more never met Lisa Adams. In her cookbook "S'mores: Gourmet Treats for Every Occasion" she shares more than 60 recipes, replacing your standard graham cracker with delicious foods like apple slices, croissants and brownies. $14, barnesandnoble.com
3. Go gourmet and make your own marshmallows for roasting with the help of this easy DIY marshmallow mix.  Follow the instructions then add your own twists with fun flavors like vanilla extract or colors like lavender. $13, surlatable.com
4. Traditionally, they may be kids-only, but this bottle is just-for-adults. Pour a glass of boozy s'more-flavored chocolate milk for a sweet dessert drink. $16, Adult Beverage Co. for locations
5. We love an ol' fashioned Hershey bar on our snacks, but if you're looking to spice up your creation add chocolate bar flavors like five spice, Mayan chile and peanut butter to your stack. $24 for 4 bars, PocoDolce.com
6. When you're ready for dessert, there's no time for hunting down twigs. Instead, use this handy marshmallow skewer over the flames! $20, Williams-Sonoma
Want s'more? Try our recipes:
Sure, beer is great to drink, but it's also an amazing cooking ingredient too! Don't believe me? Check out 10 of my favorite beer recipes below in honor of International Beer Day.
The first time I heard of steaming a whole chicken on the grill with the aid of a beer can, all I could think was "That's Genius!" If you've never tried this before, then I urge you to try it ASAP. It'll be one of your new favorite summertime grilling techniques. I promise.
This easy 7-ingredient recipe is perfect when you have extra cans of Guinness hanging around the house, say after St. Patrick's Day.
What's not to love about this hearty soup that brings together two wonderful foods: beer and cheese? Keep this recipe on hand for Oktoberfest and as an easy staple when the cooler months start kicking in.
One of our most popular margarita recipes of all time, this large-batch beer margarita is made in a pitcher and easily serves four people. Bottoms up!
Braising is a super easy technique that infuses chicken with moisture and flavor. In this easy braising recipe, tangy mustard and hoppy beer come together to give this dish an unforgettable flavor.
The Chew host Carla Hall shared this amazing Maryland Crab Boil recipe with us in our September issue (on sale tomorrow). While any light beer will work, we especially love this recipe with a pale ale or IPA (India pale ale).
I'm usually not very impressed by food served in mugs–I'm thinking of you cup-a-soup–but this Buffalo Chicken Chili  with Blue Cheese-Corn Mug Toppers is an exception. For this recipe, feel free to use whatever type of beer is your favorite.
When I'm not pairing margaritas with my Tex-Mex food, beer is always my next choice. While the recipe recommends using a light beer, I'm sure the steak would be delicious marinated in a more robust darker beer or even a spicy michelada (which is now sold in cans by Tecate).
Beer-battered and fried? You can dress up any ingredient–onion rings, jalalpeno poppers or cheese sticks–like this and I will be a fan, but beer-battered fried chicken might just be the best. While no specific type of beer is listed, I would recommend going with a light-colored beer to ensure that the end result will have a light, brown and golden fried crust. (A darker beer may make the batter appear dark and may turn even darker when fried.)
This 30-Minute Meal from Rachael Ray was created for her dad who's from Louisiana. "This is a combination of jambalaya–a local dish–and pasta, which he developed a love for with all of us Italians in the house!" says Rach. I think an amber ale or lager tastes best when combined with the andouille sausage and tomatoes, but feel free to use whatever you have on hand.
Taste Test: The Best Domestic Beers
The chocolate chip cookie has been an American favorite since its serendipitous invention in 1937, when Ruth Graves Wakefield of the Toll House Inn–ring a bell, anyone?–added pieces of a chopped chocolate bar to her cookies. In honor of National Chocolate Chip Day, we present you with some of our favorite recipes inspired by Ruth's fabulous invention and delicious tiny morsel, the chocolate chip.
Get the recipes: 
RELATED:
26 Decadent Chocolate Dessert Recipes
3 Great Gluten-Free Cake Mixes
In honor of National Mustard Day, we're sharing with you one super mustard-obsessed man: Barry Levenson. He knows the exact moment he started collecting mustard: 2:30 a.m, October 28, 1986—after the Red Sox lost the World Series. Despondent, he pushed a cart down the aisles of a 24-hour market ("a good place for a walk"). He knew it wasn't healthy for a grown man to be so depressed over a game. I need a hobby, he thought. Just then, he looked up to see jars of mustard. "They seemed to say to me, 'If you collect us, they will come.'" Barry quickly snapped up the 30 mustards sold nearby, then mail- ordered more. And more. The local paper ran a story about his collection once it reached 500 jars. A friend of his quipped, "What is this, the Wisconsin Mustard Museum?" For Barry, it was a lightbulb moment. "I didn't want to look back at my life and wonder what if?" he said. So he quit his day job—as an assistant attorney general for the state—and rented a 1,400-square-foot space. The National Mustard Museum now displays more than 5,300 jars and welcomes 35,000 visitors a year. If you're one of them, you'll be able to buy—and taste—450 varieties, watch a video on mustard's 700-year history and tackle some trivia questions. [Does American yellow mustard get its color from a) saffron; b) food dye; c) turmeric; or d) crayons? If you guessed "c," you are correct.]
If not for mustard, Barry wouldn't have met his wife, Patti. She heard Barry on the radio, singing a fight song for "Poupon U," the museum's so-called university. Patti tracked him down and asked him to organize a tasting at her social club. "I guess you could say it was love at first squeeze," he said. Barry actually talks like this. He also signs his e-mails "Condimentally yours" and, in reference to a lunchtime interview, quipped, "I'll bring the mustard!" At the museum, if you'd like to watch a video, you'll have to do it in the "Mustardpiece Theatre." What about the condiment inspires this level of devotion (and this many puns)? Barry's quick to rattle off its attributes: It's healthy, with a rich history and versatility. "Mustard is a blank canvas," he says. "You can paint works of art with a little creativity." To that end, artisans add lemon, lavender and even root beer. Barry insists that each deserves a special place on his shelves. He thinks back on the supermarket trip that started it all: "What struck me was that I'd never be lonely, because I would belong to a community of mustard lovers, and every year we'd all meet up at a collectors' convention. It turns out nothing like that existed." In opening his museum, he created something even better.
Get one of our favorite mustard-inspired recipes: Honey-Mustard Vinaigrette!
To celebrate National Ice Cream Sandwich Day, we're sharing four gorgeous ice cream sammies that are layered with grown-up flavors, but will still make you feel like a kid on summer vacation.
 Start with a double dose of sea-salt-sprinkled brownies, then add a chunk of coffee ice cream and a ribbon of fudge sauce for our Salted Brownie Sundae Bites. Talk about "sundae" best!
 Party-perfect Pistachio Neapolitan Cakewiches are guaranteed crowd favorites — without the work. Just sandwich ice cream between two layers of cake (it can even be store bought!), freeze, then cut into bars.
 We've taken what you love most about the Lemon Meringue Pie — tangy lemon filling, perfectly browned meringue — and made it portable with these Lemon Meringue Hand Pies.
Click for more ice cream sandwich recipes to make this summer.
Happy National Raspberry Cream Pie Day! Talk about a totally delicious summer dessert. This pie combines the delightful sweetness of fruit with the decadence of cream. The tasty treat is perfect for summer parties and entertaining. Bonus: Our recipe doesn't even require baking, which is perfect for those hot days when you can't bring yourself to turn on the oven.
Craving more raspberry recipes? We've got ice cream-infused, cocktail-spiked and chocolate-topped raspberry recipes you'll adore.
I-Heart-Raspberry Sorbet Sandwiches
Chocolate-Raspberry Truffle Bars
More summertime sweets:
I don't know about you, but I'm a milk chocolate person. Don't get me wrong, I enjoy a good hunk of the dark stuff, but when I have to choose milk is my go-to goodie. And since I try to celebrate National Milk Chocolate Day every day, I wanted to share a few of my favorite recipes for the occasion!
Milk chocolate and peanut butter are a classic combination–just ask any Reese's fan out there. Kick it up a notch with our Peanut Butter-Stuffed Milk Chocolate Sandwich Cookies.
Tip: Use chocolate bars instead of chocolate chips in this Chocolate-Banana Bread Pudding; they melt better than chocolate morsels, which are formulated to hold their shape during baking.
Transform a campfire staple into a frozen treat with our Bonbon S'mores–your kids will thank you!
More tasty treats:
We've all had tequila in a margarita before, so for National Tequila Day, let's go beyond the Mexican classic and try tequila a different way.
10 Ways to Enjoy Tequila–Beyond the Basic Margarita
1. Tequila + Grapefruit Juice + Club Soda  + A Squeeze of Lime (aka a Paloma)
2. Tequila + Tonic Water
3. Tequila + Lemon + Simple Syrup + Club Soda (aka a Juan Collins)
4. Tequila + Ginger Ale
5. Tequila + Orange Juice + Grenadine (aka a Tequila Sunrise)
6. Tequila + Pureed Watermelon + Triple Sec
7. Tequila + Campari + Sweet Vermouth (aka a Tequila Negroni)
8. Tequila + Orange Juice + Pineapple Juice
9. Tequila + Muddled Mint & Limes + Simple Syrup + Club Soda (aka a Tequila Mojito)
10. Tequila + Bloody Mary Mix (aka a Bloody Maria)
But if you decide, even after all of these awesome suggestions, you still must have a margarita, I suggest trying our Jalapeno Margarita above. It's kick-ya-in-the-butt spicy, but oh so good. Cheers!
5 Bar Secrets from Mixologists
It seems that every summer one very important question lingers in the air "Hamburger or hot dog?!" and while we're a fan of the burger (Rach wrote a whole book on 'em!) we can't argue against the love for a delicious bite of a grilled dog sandwiched between a pillowy bun. And it looks like we're not alone—July 23 marks national hot dog day and for good reason! According to recent polls, a quarter of Americans eat only hot dogs during grilling season!
Want some more hot dog celebrating trivia? According to the National Hot Dog & Sausage Council, we eat about 7 billion hot dogs during the summer—that's 818 hot dogs per second! With all that hot dog eating, the mustard and relish combo might get a little old, so check out our 10 twists on a hot dog (pictured above) to spice up your cook out. Try more of our favorite recipes—from classic toppings to hot dog kebabs—like these favorites:
Cheese-Stuffed Hot Dogs with Spicy Onions
Chili-Cheese Dogs in Beach Blankets
52 Best Restaurant Burger in the United States
Cocktails, Anyone? Drink Posts
Last "Fill in the Blank Friday," we asked you what your favorite junk foods are and based on your spirited responses, here are the top five junk foods you crave. Go ahead and indulge, after all it is National Junk Food Day–the best day of the yeaaar!
1. Potato Chips
What's not to love about crunchy potato chips? Perfect as a snack or accompanying a sandwich, these hot potatoes pack flavor and crunch into an awesome one-bite package. Here's a little trivia for you, did you know the average person eats the equivalent of 96 one-ounce bags of chips a year. (That's 6 pounds a year.) Whether you spread your potato chip consumption out over the whole year or make it all happen today,  try one of our homemade chip recipes. You'll be able to customize them exactly to your liking and you'll never run out of delicious crisps again.
Get the recipes: Chips
2. Pizza
I can understand why pizza is considered a "junk food," but I also refuse to accept it as such. Regardless, pizza is clearly amazing. In fact, approximately 94 percent of Americans eat pizza on regular basis. So have a love affair of your own and cook up one of our easy and delicious pizza recipes at home ASAP.
3. Cheeseburger
We love burgers and so do you. With all the different variations out there though it can tricky to find your ultimate recipe. So we've taken the guesswork out of recipe searching and testing with our Ultimate Burger Recipe Finder Tool. Just answer four quick questions and we'll find the perfect recipe for you.
4. Ice Cream
In the United States, the average person consumes an average of 48 pints of ice cream a year, more than any other country. This is totally understandable though as even lizards know how good ice cream is. No matter which flavor is your fave though, we have an ice cream sandwich recipe you'll be sure to love.
Get the recipes: Super-cool Ice Cream Sammies
5. Chocolate
Just look at that gif. Enough said.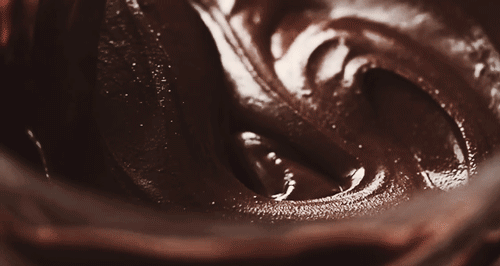 RELATED:
Rachael's 25 Most Popular Burgers
26 Decadent Chocolate Desserts