Happy National Raspberry Cream Pie Day! Talk about a totally delicious summer dessert. This pie combines the delightful sweetness of fruit with the decadence of cream. The tasty treat is perfect for summer parties and entertaining. Bonus: Our recipe doesn't even require baking, which is perfect for those hot days when you can't bring yourself to turn on the oven.
Craving more raspberry recipes? We've got ice cream-infused, cocktail-spiked and chocolate-topped raspberry recipes you'll adore.
I-Heart-Raspberry Sorbet Sandwiches
Chocolate-Raspberry Truffle Bars
More summertime sweets:
I don't know about you, but I'm a milk chocolate person. Don't get me wrong, I enjoy a good hunk of the dark stuff, but when I have to choose milk is my go-to goodie. And since I try to celebrate National Milk Chocolate Day every day, I wanted to share a few of my favorite recipes for the occasion!
Milk chocolate and peanut butter are a classic combination–just ask any Reese's fan out there. Kick it up a notch with our Peanut Butter-Stuffed Milk Chocolate Sandwich Cookies.
Tip: Use chocolate bars instead of chocolate chips in this Chocolate-Banana Bread Pudding; they melt better than chocolate morsels, which are formulated to hold their shape during baking.
Transform a campfire staple into a frozen treat with our Bonbon S'mores–your kids will thank you!
More tasty treats:
We've all had tequila in a margarita before, so for National Tequila Day, let's go beyond the Mexican classic and try tequila a different way.
10 Ways to Enjoy Tequila–Beyond the Basic Margarita
1. Tequila + Grapefruit Juice + Club Soda  + A Squeeze of Lime (aka a Paloma)
2. Tequila + Tonic Water
3. Tequila + Lemon + Simple Syrup + Club Soda (aka a Juan Collins)
4. Tequila + Ginger Ale
5. Tequila + Orange Juice + Grenadine (aka a Tequila Sunrise)
6. Tequila + Pureed Watermelon + Triple Sec
7. Tequila + Campari + Sweet Vermouth (aka a Tequila Negroni)
8. Tequila + Orange Juice + Pineapple Juice
9. Tequila + Muddled Mint & Limes + Simple Syrup + Club Soda (aka a Tequila Mojito)
10. Tequila + Bloody Mary Mix (aka a Bloody Maria)
But if you decide, even after all of these awesome suggestions, you still must have a margarita, I suggest trying our Jalapeno Margarita above. It's kick-ya-in-the-butt spicy, but oh so good. Cheers!
5 Bar Secrets from Mixologists
It seems that every summer one very important question lingers in the air "Hamburger or hot dog?!" and while we're a fan of the burger (Rach wrote a whole book on 'em!) we can't argue against the love for a delicious bite of a grilled dog sandwiched between a pillowy bun. And it looks like we're not alone—July 23 marks national hot dog day and for good reason! According to recent polls, a quarter of Americans eat only hot dogs during grilling season!
Want some more hot dog celebrating trivia? According to the National Hot Dog & Sausage Council, we eat about 7 billion hot dogs during the summer—that's 818 hot dogs per second! With all that hot dog eating, the mustard and relish combo might get a little old, so check out our 10 twists on a hot dog (pictured above) to spice up your cook out. Try more of our favorite recipes—from classic toppings to hot dog kebabs—like these favorites:
Cheese-Stuffed Hot Dogs with Spicy Onions
Chili-Cheese Dogs in Beach Blankets
52 Best Restaurant Burger in the United States
Cocktails, Anyone? Drink Posts
Last "Fill in the Blank Friday," we asked you what your favorite junk foods are and based on your spirited responses, here are the top five junk foods you crave. Go ahead and indulge, after all it is National Junk Food Day–the best day of the yeaaar!
1. Potato Chips
What's not to love about crunchy potato chips? Perfect as a snack or accompanying a sandwich, these hot potatoes pack flavor and crunch into an awesome one-bite package. Here's a little trivia for you, did you know the average person eats the equivalent of 96 one-ounce bags of chips a year. (That's 6 pounds a year.) Whether you spread your potato chip consumption out over the whole year or make it all happen today,  try one of our homemade chip recipes. You'll be able to customize them exactly to your liking and you'll never run out of delicious crisps again.
Get the recipes: Chips
2. Pizza
I can understand why pizza is considered a "junk food," but I also refuse to accept it as such. Regardless, pizza is clearly amazing. In fact, approximately 94 percent of Americans eat pizza on regular basis. So have a love affair of your own and cook up one of our easy and delicious pizza recipes at home ASAP.
3. Cheeseburger
We love burgers and so do you. With all the different variations out there though it can tricky to find your ultimate recipe. So we've taken the guesswork out of recipe searching and testing with our Ultimate Burger Recipe Finder Tool. Just answer four quick questions and we'll find the perfect recipe for you.
4. Ice Cream
In the United States, the average person consumes an average of 48 pints of ice cream a year, more than any other country. This is totally understandable though as even lizards know how good ice cream is. No matter which flavor is your fave though, we have an ice cream sandwich recipe you'll be sure to love.
Get the recipes: Super-cool Ice Cream Sammies
5. Chocolate
Just look at that gif. Enough said.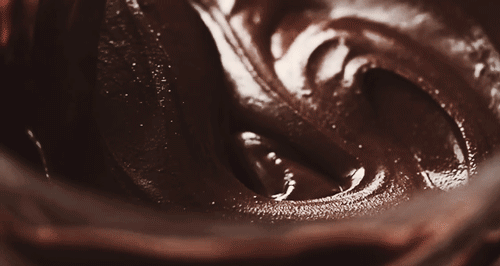 RELATED:
Rachael's 25 Most Popular Burgers
26 Decadent Chocolate Desserts
Whether you call 'em lollipops or suckers, these treats on sticks are pure happiness. In honor of National Lollipop Day, we've shared some fun facts, our fave store-bought pop and even a recipe you can make at home!
One handmade sucker weighs more than two baseballs! We'll have two, please.
Fun lollipop facts:
The famous 1958 "Lollipop" song was written after Julius Dixson arrived late for a song writing session with Beverly Ross. He explained that his daughter had gotten a lollipop stuck in her hair, and that had caused him to be late. Ross was so inspired by the word "lollipop" that she sat down at the piano and produced a version of the song on the spot. The song was written for the duo, Ronald & Ruby, but most successfully covered by The Chordettes.
The original machines made 40 lollipops per minute. Today's machines produce 5,900 lollipops in one minute.
The world's largest lollipop weighed a whopping 7,003 lbs. and was 4 feet 8.75 inches in length, 3 feet 6 inches in width and 5 feet 11 inches in height. Talk about a lot of licks to get to the center of that lollipop!
Never thought you could make your own lollipops? Here's how…
Get the recipe: Chewy-Centered Lollipops
More Candy Recipes:
Sources: wikipedia.com, guinnessworldrecords.com and candyusa.com
When creating a list of the most decadent foods caviar is always near the top of my list. Perhaps this is rooted in my daydreams of sipping champagne and eating caviar, but something about these tiny fish eggs suggests dec-a-dence. So today, on National Caviar Day, let's take a look at two different ways to enjoy this luxurious seafood delicacy.
Not gonna lie, I find ordering caviar in a restaurant to be a bit intimidating. Not only is it pricey, but the pomp and circumstance of how they serve it–Mother of Pearl serving spoon, anyone?–only adds to my anxiety. So, I've taken to enjoying this luxurious food at home, which is actually easier than I thought it would be.
True caviar, the processed and salted roe of fish, only comes from sturgeon. So once you find a trusted place to buy it from, you can enjoy it with the addition of only two more ingredients: a cracker and creme fraiche. Just layer the three "c" ingredients (cracker, creme fraiche and caviar) on top of each other and pop that bad boy in your mouth. Yum!
Care to be a bit more adventurous? Then try this recipe from Chef Todd English. He takes deviled eggs to the next level by adding caviar and lobster! Wowza. Talk about reinventing a classic.
RELATED:
5 Best Sparkling Wines under $15
Happy National Peach Ice Cream Day! It's summer, and there's no better time to enjoy a nice juicy peach than right now. So stock up! This recipe ensures those peaches won't go to waste.
Peach and Toasted Almond Ice Cream
5 Tips for Making Homemade Ice Cream:
1. To decrease prep time, store the bowl of your ice cream maker in the freezer, wrapped tightly in a plastic bag.
2. Add mix-ins, such as nuts and chocolate chips, for only the last minute of churning.
3. To ensure proper aeration, only fill the ice cream maker three-quarters of the way.
4. Make sure the ice cream "batter" or custard is cool before putting it into the machine.
5. To prevent ice crystals from forming in the freezer, place a piece of plastic wrap on the top surface and press down.
More Sweet Treats:
Seasonal Chocolate Dessert Recipes 
Source: seriouseats.com
Tapioca pudding is a deliciously unique dessert. We love the fun texture, sweet taste and, of course, all the different dishes you can make with those wee little bubbles. So celebrate National Tapioca Pudding Day with our roundup of favorite bubbly recipes—dig in!
This Coconut Tapioca Pudding recipe has coconut, ginger and mango. Perfect for summer!
Tapioca is also used in a bunch of other dishes besides puddings. Our recipe for Halo Halo (a popular dessert from the Philippines that traditionally contains beans, jellies and ice cream, plus flan and evaporated milk) calls for berries and is ultra refreshing.
Related Links:
Seasonal Chocolate Dessert Recipes
Taste Test: The Best Greek Yogurts
Source: abclocal.go.com
It's National French Fry Day so what better way to celebrate than with some crispy tots? Whether you prefer classic, garlic or sweet potato fries, there's a recipe out there for you. No matter the occasion — you can throw a French fry tasting party or simply make a side for your burger — but today's the day to make a batch of this summer favorite.
Fun facts about the French fry:
- French fries account for more than 1/4 of all potatoes sold in the U.S.
- The average American eats 30 pounds of French fries per year.
- Thomas Jefferson cultivated the potato and popularized its eating in the US.
 Try out one of these homemade potato favorites, like our Bistro-Style Pommes Frites!
Related Links:
Rachael's Most Popular Burgers
Source: farmflavor.com and frenchfries.com